■新たな絆
2017年9月19日、フィリピン大学本校(DILIMAN)労使関係学内に日本語の出来る高度人材育成を目的とした財団、ASIA HRD FOUNDATION INC.を設立致しました。
理事長にはアマンテ労使関係学教授(前副学長)当社団からは森、藤野の両名がそれぞれ副理事長、財務担当理事として参画しております。
又、ブラカン州からもブラカンパイロットプロジェクトのメンバーだったアロンゾ青年局長兼PESO(公共職業安定所)所長も理事として参画頂きました。
今後はブラカン州だけでなく、フィリピンの各地域の提携教室で日本語の基礎教育を受けた就労希望者に対して、より高度な日本語教育を始め道徳教育、ビジネスマナー等の教育をフィリピン大学内の教室で施します。
これにより各分野の専門知識に加えて、英語と日本語という強力なスキルを併せ持った人材の輩出が可能となります。
1st.バッチは介護人材のリーダー育成に限定しておりますが、2nd.バッチ以降は日本の産業界が求める高度な技術者を始め産業人材の育成にも注力致します。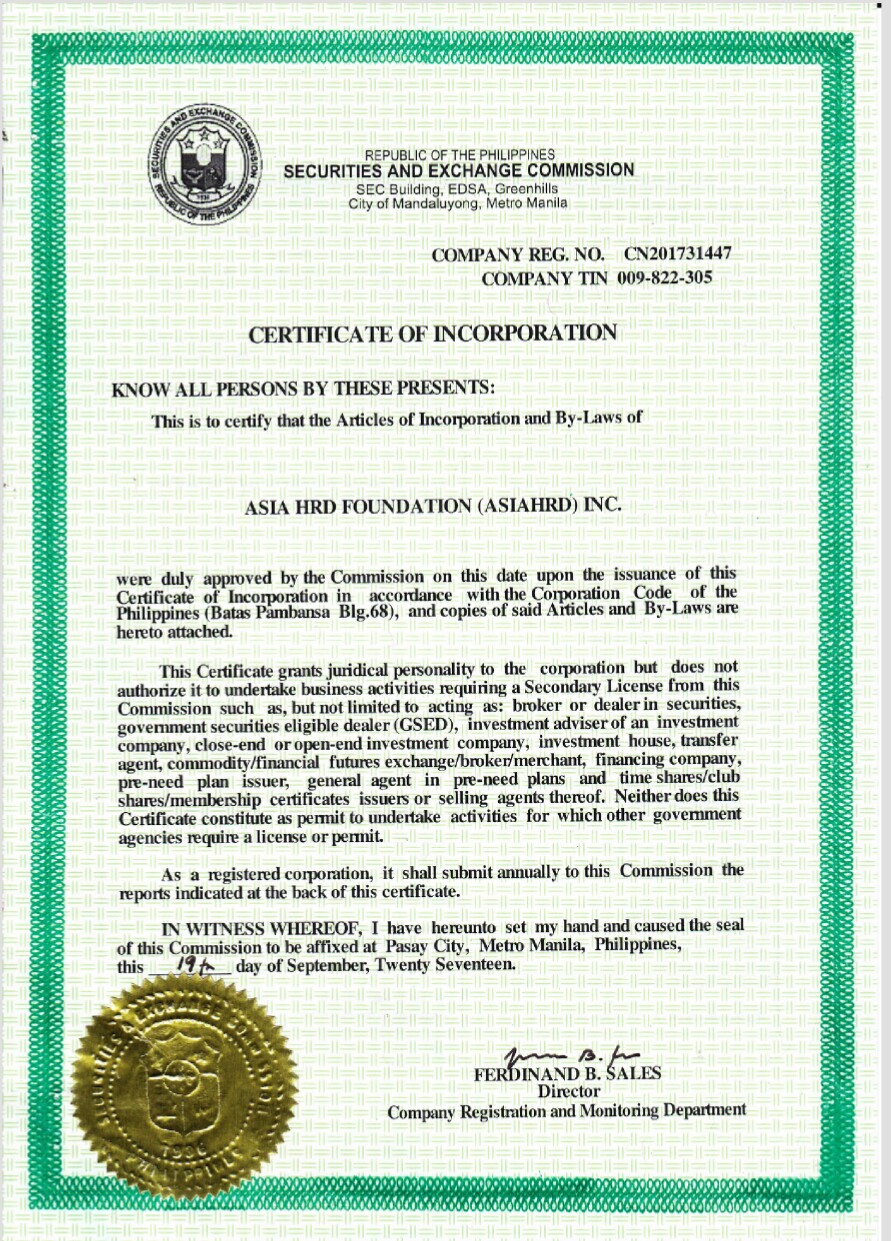 ▲SEC(証券取引委員会)による法人設立証明書
■我々のルーツ
2014年1月、ブラカン州のアルバラード州知事はブラカン州における人材開発プログラム"BULACANパイロットプロジェクト"の発足を州都マロロスにおいて宣言されました。
我々とフィリピンの"絆"のはじまりです。以後、幾多の挫折と困難を乗り越えて現在に至ります。
社団の沿革とはフィリピンとともに歩んだ歴史そのものなのです。
Governor Alvarado:

To our Guest Speaker, The Chairman of Higher and Technical Education, House of Representative, Congress of the Philippines, Honorable Alberto Romulo. Senator Alberto Romulo is a Bulakenyo, his mother is a Buendia and a Gatmaitan of Malolos. The wife of our Senator Romulo is also a family to the first Governor of Bulacan, Governor Buendia. Senator Bert Romulo's ancestors were also the ones who defeated the last squadrons of the Spaniards at Baler. Let's give them a warm round of applause. Of course to the President of the Global Arcs Technical and Vocational School, Inc., Ms. Belinda Bartolome, the head of the delegation from Japan-Myanmar Economy Investment Center, Noriyuki Yonemura, through the initiative of Chairman Kyoko Mori, let's give them a warm round of applause. The representative from Red Cross, Lion's Club, Provincial Government of Bulacan, Department of Education, Commission on Higher Education, TESDA, students and teachers of Global Arcs Technical and Vocational School, Inc., friends, ladies and gentlemen, Good day to everyone. First allow me to congratulate the Global Arcs Technical and Vocational School, Inc. for the launching of the international Care Nurse Project. This project gives relief of knowing there is someone with them a place where dedicated professionals will do their utmost to help for nurses or caregivers .Today, an essential member of our nation's health team and a growing population cannot be met without their help. Blessed with the fulfilling and with the wise and understanding heart, Nurses performs a vital role in maintaining and strengthening health services in our national well-being. I would like to give my gratitude to the different institutions that were present today, to Japan, our companion for this project. I am always being an advocate of mutual and beneficial partnership between Japan and the Philippines especially in the field of human care. The prosperity of a community relies on the health of its people. A sick individual cannot do anything but to be a burden to his/ her community. But a healthy individual is more productive on their life and can contribute for the sake of his/ her fellow people. If there is no sick person, there is no hindrance towards the advancement of their personal life and the community. The Provincial Government of Bulacan had a big obligation when it comes to its people's health. The Government knows that we cannot solve this by ourselves; we need the help of the qualified and skilled Nurses and Caregivers who cares for the community people and also towards those one who is outside the country. With this International Care Nurse Project, we are proving a long step near that objective that will enable us to attract many of the qualified young people to this great and noble calling. I hope that this project would be a success for the sake of the Filipino people. God Bless us all. Thank you very much.
---
2015年4月19日のインターナショナルケアナースの発足式には日比経済連携協定(JPEPA)締結の立役者であり、在任中はフィリピン人海外労働者(OFW)保護に精力的に取り組まれたアルベルト・ロムロ元外務大臣もご参加頂き、我々の活動への有り難いお言葉を頂戴しました。
以下は動画とスピーチ内容の要約です。
▼アルベルト・ロムロ元外務大臣と日本の関り

Senator Romulo:

Good morning to everyone. I am glad that everyone was able to come here in Malolos, here in Alido and especially here in the gymnasium of Lord's Angels Montessori School. Let's give the school and especially the Global Arcs Technical and Vocational School a round of applause, both of which are headed by Ms. Belinda Bartolome. First of all, I want to greet our smart, beloved and great Governor of Bulacan, Governor Wilhelmino Sy Alvarado. I told our governor to leave me here because I know that he is a very caring Governor. He goes to each state even in the barangays just to help his fellowmen and I know time is just that precious. For me, I am already a retiree so I have the time in the world. I owe that great introduction to your great Governor, thank you very much. I also would like to greet our friends from Japan. First of all is Madame Kyoko Mori, to Mr. Noriyuki Yonemura and to all the officials from Japan International Caregiver Employers. (Cites the names of the officials) . I am glad that you were able to visit the Province of Bulacan wherein the Philippine-Japan Economic Partnership Agreement takes place and is headed by our Governor Alvarado. And with that, I know that this project, once implemented, will give a lot of benefits to the people of Bulacan. Governor Alvarado was once became a Mayor of Hagonoy for twelve years so he knows how to inspire and motivate people. Now going back to this JPEPA, JPEPA is Japan-Philippines Economic Partnership Agreement. I am the one who negotiated this when I was still the Secretary of Foreign Affairs together with Foreign Minister Taro Ashiro and also Prime Minister Abe. I am glad that this partnership agreement was approved by the Congress and that now our people can have benefits because of this. In particular, our registered nurses. In this agreement the only condition the Japanese Government requires is to have an orientation and training in Japanese language. Of course this is necessary because they will take care of Japanese people. If they weren't able to communicate, how would they be able to help? That is why the Japanese Government creates a program and training for the Japanese Language. I think this is a great opportunity as Ms. Belinda invites me here because I am the Chairman of Higher and Technical Education and also I represent my son and have a relation with JPEPA. And with that, I won't make my speech any longer as I know that there are still people who are going to speak. I would to thank and greet the members from Red Cross Team, Lion's Club, Department of Education, TESDA and most of all the officials who are with Governor Alvarado. Thank you for everything and I was glad that everyone was here. Once again, thank you very much.